Friday, December 13, 2018
Conrad T. Prebys Auditorium
Registration Deadline: December 2, 2019
Abstract Deadline: November 13, 2019
Organizers:
Victor Du
Meredith Frie
Nikki Lytle
Thomas McFall
Cynthia Reyes
Michael Trogdon
Diana Hargreaves
Edward Stites
Jan Karlseder
Geoffrey Wahl
Speakers:
Robert D. Schreiber, PhD, Washington University School of Medicine in St. Louis
Nabiha Yusuf, PhD , University of Alabama Birmingham Department of Dermatology
Carlo Maley, PhD, Arizona State University School of Life Sciences
Razelle Kurzrock, MD, UCSD School of Medicine/Moores Cancer Center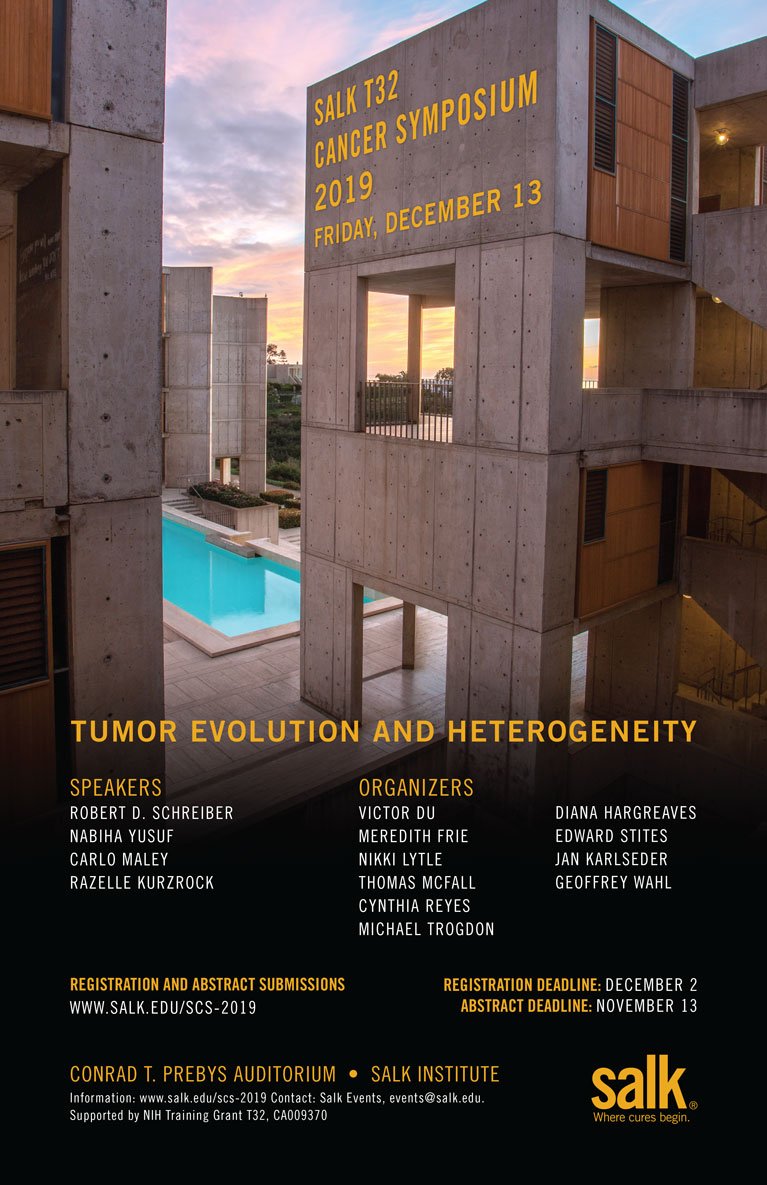 Click here to download poster.
Salk T32 Cancer Symposium 2019 program
8:00 a.m – Registration opens
9:00 a.m. – Opening remarks
5:00 p.m. – Meeting concludes
Please check back soon for additional details.
---
Important Instructions for Abstract Submission
Please read this before submitting your abstract:
If you need assistance with this form, please email events@salk.edu.
Abstract submission is limited to 3000 characters.
Please specify if you would like to be considered for an oral presentation or a poster.
Three abstracts will be selected to give a 10 minute oral presentation, with 5 minutes for questions.
Posters will be presented at the end of the day during the reception.
Abstract submission deadline: November 13, 2019
Click here to submit your abstract: https://www.salk.edu/scs-2019-abstracts
REGISTRATION
Please read this before registering for this meeting:
Travel Information
Contact address/phone numbers while you're attending the meeting
Salk Institute for Biological Studies
10010 N. Torrey Pines Road
La Jolla, CA 92037
+1 (858) 453-4100 (tel)
+1 (858) 625-2404 (fax)
San Diego International Airport Website:
www.san.org
Taxi Service:
Yellow Cab +1 (619) 234-6161
Train Service:
Amtrak +1 (800) 872-7245
San Diego Transit (public transportation):
+1 (619) 233-3004
Shuttle Service:
When reserving shuttle service Use the Salk Institute address above if departing from Institute.
---
Directions to the Salk Institute
The Salk Institute overlooks the Pacific Ocean just west of the University of California San Diego.
Our street address is:
10010 N Torrey Pines Rd
La Jolla, CA 92037
Driving Directions
From the North:
Use I-5 South
Exit Genesee Ave and turn right (heading West)
Turn left onto North Torrey Pines Road
Drive 1/8 mi, the Institute will be on your right
From the South:
Use I-5 North
Exit Genesee Ave and turn left (heading West)
Turn left onto North Torrey Pines Road
Drive 1/8 mi, the Institute will be on your right
The reception area is located in the south wing.
The meeting will be in the Foyer, down the stairway.
---
Parking
There is no public parking available on the Salk Institute's campus for visitors and tour attendees. We encourage guests to use free parking along Torrey Pines Scenic Drive and in the Gliderport parking lot.
If you plan to drive your own vehicle, please allow for an extra 15-20 minutes to park.